Fresh Face™
Re-Hydrating Cleanser
A non-drying, non-irritating pH balanced formula that gently cleanses without stripping away vital moisture. Skin feels soft, supple and refreshed.
Net wt. 1 oz. Item # J50010
Price $9.00
---
SPACE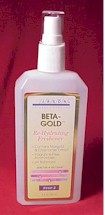 Beta-Gold ™
Re-Hydrating Freshener
A spray for all day use. A light, refreshing blend of re-hydrating botanicals and fresh herbal extracts to condition and moisturize. Fragrance and alcohol-free, perfect for dry, sensitive and/or sun damaged complexions.

Net wt. 8 fl. oz. Item # J50020
Price $9.00


Qty:
---
Ouick Recovery ™
Re-Hydrating Lotion
Help slow the visible signs of aging with the plant-rich nutrients, vitamins and moisture contained in this formula. Protects with UVA and UVB SPF 12.

Net wt. 4 fl. oz. Item # J50030
Price $9.00
---
Suma Moist ™
Rich Creme Concentrate
Rich, luxurious creme helps reduce fine lines and wrinkles.
Rediscover a youthful-looking complexion and help prevent the visable signs of premature aging.
Net wt 2 fl.oz Item # J32002
Price $9.00
---
Please send your suggestions, comments, or reports of non-functional links, to the Webmaster .
---
This page, and all contents, are
Copyright (C) 1998 All Rights Reserved
Jevelle International Ltd.
14123 Van Ness Avenue
Gardena, CA 90249
This site created by NRS Enterprises
---