Oily Skin System
Helps Control Oily Skin
Oily / Combination skin Characteristics:
You have soft smooth skin that will age later than some of your delicate-skin friends, just because it is oily; however, your skin is prone to blackheads, breakouts and large pores, especially in the T-zone - forehead, nose and chin areas.
You can have the complexion you've always wanted. Nutra-Mate is the way to a clearer, brighter complexion. Oil Control, Clean, Balance, Smooth and Nourish your skin.
---

Skin Balancing Formula
Nutra-Mate Oily Skin Control System
All four items
Regular Price $50.00
Item N040 Special Only $44.50
---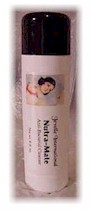 Foaming Facial Gel Cleanser

Oil-free, non-comedogenic Balancing Cleanser
Enriched with botanical extracts of Rosemary and Chamomile, this foaming facial gel gently cleanses the skin. Effectively removes all traces of makeup and oil without drying the skin. The soothing properties of Aloe Vera leaves the skin feeling soft and supple while the fragrance of aromatherapy relaxes the senses.
Directions:_____________________________________________________________
Apply to moistened face. Massage gently in a circular motion until a rich lather is achieved. Rinse thoroughly with lukewarm water. Follow with "Skin Clarifier" toner.

8 fl. oz.
Item N070 $12.50
---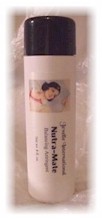 Skin Clarifier Toner

Non-comedogenic Balancing Toner
The finest of botanical extracts have been combined to formulate a toner especially for combination/oily skin types. Witch Hazel and Rosehips are used as a natural astringent while Aloe Vera restores lost moisture. Rosemary and Arnica stimulate blood circulation while Chamomile and Calendula provide healing properties.
Directions:______________________________________________________________
Apply with a cotton pad after cleansing face with "Foaming Facial Gel Cleanser", avoiding eye area. Follow with the "Oil-Blotting Moisturizer".

8 fl. oz.
Item N080 $12.50
---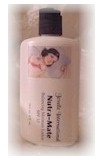 Oil-Blotting Moisturizer SPF 12

Oil-free, non-comedogenic Balancing Moisturizer
An oil absorbing facial moisturizer with SPF 12 protection. UVA / UVB protection and new Blue Green Algae with 22 Amino Acids. Light textured, non-greasy daytime moisturizer that is pH balanced to equalize oily skin.

Directions:_____________________________________________________________
Smooth on after "Skin Clarifer Toner" for outdoor protection, moisture and skin balancing.
2 fl. oz.
Item N090 $12.50
---
Marine Mint Masque with Salicylic Acid ™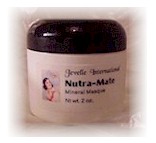 Ultimate Deep Pore Cleanser
Helps Dry Up Blemishes
Rinses Away Blackheads
Helps Shrink Large Pores
Sea silt and clay combined in this powerful deep cleansing masque to remove oil and impurities from deep within the skin. Salicylic acid works synergistically with sulfur and spearmint oil, to tighten and refine the skin while treating the complexion. The skin is left beautifully cleansed and clarified. Very effective on oily, and problem skin Progressively improves the appearance of the skin. Use once or twice a week for best results. Your skin will appear brighter, smoother, more radiant.
Directions:_____________________________________________________________
Cleanse face and neck thoroughly with "Foaming Facial Gel Cleanser". Apply masque generously and allow to dry for about 15 minutes. Leave on problem areas overnight, if desired. Remove with warm water and a clean washcloth for best results.
Net wt. 2 oz.
Item N060 $12.50
---
Please send your suggestions, comments, or reports of non-functional links, to the Webmaster .
---
This page, and all contents, are
Copyright (C) 1998 All rights Reserved.
Jevelle International Ltd.
This site created by NRS Enterprises
Revised: January 17, 2002.