---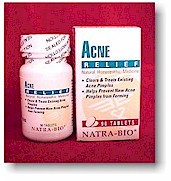 Clears & Treats Existing Acne Pimples
Helps Prevent New Acne Pimples from Forming
Homeopathic Medicine is a safe treatment alternative for most minor ailments. Sympton relief is attained through stimulation of the natural healing process. Precise levels of homeopathic ingredients work safely and without side effects.
All natural ingredients
No alcohol
No side effects
No drowsiness
Advanced formulations
Made in accordance with the Homeopathic Pharmacopoeia of the United States.
Dosage: Adults chew one tablet slightly and allow to dissolve in the mouth 4 times daily for one week, then take twice daily for as long as needed. It is helpful to drink at least 4, 8 ounce glasses of water each day. Not recommended for children under 12 years of age.
As with any drug if you are pregnant or nursing a baby, seek the advice of a health care professional before using this product.

90 tablets
Price $12.95 Item M107

---
Please send your suggestions, comments, or reports of non-functional links, to the Webmaster
---
This page, and all contents, are
Copyright (C) 1998 All Rights Reserved
Jevelle International Ltd.
P. O. Box 5058
Gardena, CA 90249
1-877-Jevelle
This site created by NRS Enterprises