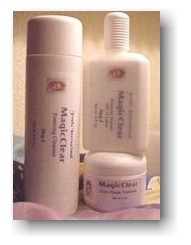 System Consists of:
Foaming Mint Cleanser
MagicClearŽ Acne Cream
Moisturizing Lotion

MagicClearŽ Acne Cream - acne anti-bacterial formula, treats the source of the problem.

Foaming Mint Cleanser - with all natural Tea Tree Oil (a natural antiseptic). Anti-bacterial cleanser, gentle to the skin. Leaves your skin feeling refreshingly clean, smooth and soft.

Moisturizer Lotion (non-oily non-comdogenic - pH balanced 5.0) wonderfully light textured. Nourishes the skin with natural botanical ingredients. Protects the skin from the suns harmful rays, leaves it feeling smooth and soft.
---

Secure Shopping Cart
MagicClear Acne System
Only $46.50
We accept
Visa, MasterCard, American Express,
Discover and Checks.



Qty:
---
Please send your suggestions, comments, or reports of non-functional links, to the Webmaster .
---
This page, and all contents, are
Copyright (C) 1998 All Rights Reserved
Jevelle International Ltd.
14123 Van Ness Avenue Suite 213
1-877-Jevelle
Gardena, CA 90249
This site created by NRS Enterprises