Eye Gelee Concentrate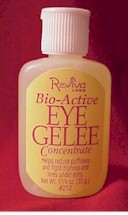 Bio-Active

Eye Gelee contains something for everyone.


Collagen and elastin to fight wrinkles and to firm up the delicate eye area.


Aloe for soothing and softening.


A variety of herbs to reduce puffiness.


A light daytime product to be used on the entire eye area, including eyelids.


Eye Gelee applied very sparingly will soften lines and crows feet.

Our exceptionally light Eye Gelee nourishes the eye area with collagen, herbal extracts, elastin and mucopolysacchrides.
The herbal extract in Eye Gelee helps decrease puffiness as well as soften and protect this sensitive area. Eye Gelee is an excellent alternate for daytime use with our vitamin E Oil Stick. For creases or baggy eye area, use under Elastin Night Cream at night---or alternate under our rich Throat and Eye Cream, both day and night.
DIRECTIONS: A dot is all you need--pat in gently, do not rub! If you can see it on your skin, you,ve used too much. Don't neglect the outer corners of your eyelids.

Net wt. 1¼ oz. Price $10.00 Item # R212
(Secure Shopping Cart)