Mud Mask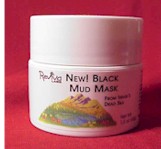 Mud from the Dead Sea is one of the oldest treatments known. Cleopatra probably used it. Certainly it could not have withstood the test of time without proven results. And results are our primary interest, are they not?


Recommended as part of oily skin program; or oily areas on combination skin.


Suggested use on areas where you have large pores.


It's an excellent mask that acne patients would "step down to" when acne has considerably cleared.

A highly effective "mineral mask" for oily skin; imported from Israel. Special mineral water is utilized, along with Dead Sea minerals to do wonderful things to combat large pores and excessive oil secretions. These minerals combined with special clays draw out impurities as well as help refine pores and skin texture.
As in our other treatments for oily skin, elements like glycerin and cetyl (cetearyl) alcohol are incorporated to offset any "over-drying" that might occur. Eucalyptus oil to combat bacteria and Allantoin which soothes troubled skin are also included.
DIRECTIONS:
Apply to cleaned skin, leave on for 15-20 minutes. Wipe face clean with warm water and a washcloth. Use 3-4 times weekly thereafter.
Net wt. 1½ oz. Price $11.00 Item R452