Sun Protective Moisturizer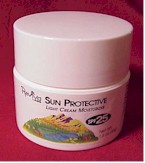 SPF #25
Sun Protective Moisturizer is an everyday moisturizer, not a beach type product..
Since it has a sun protective factor of 25, it's a wonderful preventative against the formation of dark spots commonly associated with aging, as well as freckles.
If one has brown spots, use SUN PROTECTIVE MOISTURIZER during the day.
Men and women can (and should) always use protection when driving or doing any kind of outdoor work, or engaging in sports.

Beautifully sheer, greaseless cream moisturizer that's also a beautifully effective SPF 25 PROTECTION against sun's damaging rays, wind, heat or cold. When you are outdoors, although you are not sun bathing, your skin still needs protection. But the usual suntan cream is either too heavy or it's not a beautifying moisturizer. So, here's a superb, quality moisturizer that softens, makes skin look dewy fresh, leaves no oily residue and has a special sunscreen. It's ideal for the outdoors type, male or female. It provides many hours of protection.
DIRECTIONS: Apply a small amount on face and neck every time you go out of doors. Can be used under or without makeup. Can also be layered over other moisturizers..

Net wt. 1.5 oz. Price $8.00 Item # R296
(Secure Shopping Cart)