Alpha Hydroxy Acids: Works to clear up acne, most effectively.
Alpha Hydroxy Acids does wonders for sun damaged skin. Old cells detach more rapidly uncovering smoother, finer textured, and more supple skin. Lines and wrinkles become less apparent and skin is more youthful-looking.

---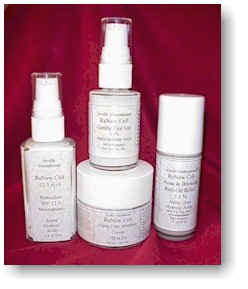 All ReNew products are formulated with
natural botanicals and are very gentle to the skin. For all skin types including sensitive skin.
---
ReNew Gentle Eye Gel AHA 3.5%
All natural gel, helps to relieve dark circles and puffiness and restores moisture to the delicate, under eye area skin. If you have a tendency toward puffiness and circles under the eyes, this can be effective.
Net wt. 1 oz. Price $18.90 Item # R-201
ReNew Daytime Moisture Lotion AHA 6%
This wonderful moisturizer for all skin types. Use it under make-up. It's perfect for those of you who want to keep a soft, youthfully, smooth and glowing complexion.

Net wt. 2oz. Price $14.50 Item # R-202
ReNew Night-Time Moisture Cream,
AHA 10%
Alpha hydroxy acids are perfect for mature and sun damaged skin especially with this higher concentration. Apply a little to your face each night, before you go to bed and you will start to see an amazing difference in the way your skin looks and feels. It's an excellent way to restore a youthful smooth appearance to your skin.

Net wt. 1oz. Price $19.50 Item # R-203
ReNew Protective Moisturizer SPF12.5
AHA 12.5%
Does wonders for the skin, aging cells detach more rapidly.
Uncovering a smoother, finer and more supple complexion. leaving the skin feeling silky, soft and radiant. Protects your skin all day from the elements and sun. Anti-oxidants Vitamin-C and Vitamin-E.
Net wt 1.6 oz Price $25.95 Item # R-204
ReNew Hand & Body Lotion AHA 4%

For all skin types. Use this wonderfully fine textured lotion to smooth and refine your skin. Use it on a daily, on your hands, neck, chest and shoulders. An all over body luxury, for a smooth silky textured skin.

Net wt. 4 fl. oz. Price $10.95 Item # R-205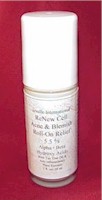 ReNew Acne Control Roll-On
AHA 5%

Easy to use roll on bottle, to help clear up blemishes. It's so easy to use. You can carry it around with you in a pocket or purse so you can use it when needed. Just roll it over the blemish, it dries quickly and you're on your way. Contains antiseptic agents, anti-bacterial and anti-inflammatory plant extracts. All Natural.
Net wt. 1 fl. oz. Price $12.50 Item # R-206
ReNew Moisturizing Gel (oil free) AHA 12.5%
Ideal for acne, oily skin, and problem skin as it sloughs away skin cell debris to reveal a healthier, clearer, more refined complexion.
Net wt. 1.1 fl. oz. Price $21.00 Item # R-208
---
Home | Directory | About Us | Products | MagicClear | Skin Types | Testimonies | About Renew Alpha Hydroxy |
About Acne | Comments | To Order
Please send your suggestions, comments, or reports of non-functional links, to the Webmaster .
---
This page, and all contents, are
Copyright (C) 1998 All Rights Reserved
Jevelle International Ltd.
14123 Van Ness Avenue
Gardena, CA 90249
This site created by NRS Enterprises