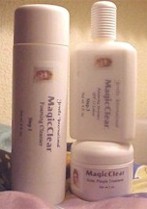 Tea Tree Oil
100% Pure
Has the special distinction of being a germicide, fungicide and antiseptic all in one. This oil, from the tree known as Melaleuca Alternifofolia helps relieve dandruff to insect bites and arthritis flare-ups. Packaged in protective amber glass with a child-safe dropper.

Item # J03011 Only $10.50
---

MagicClear
Acne Treatment Cream
This is our wonderfully formulated acne treatment cream, nothing else like it. Formulated for clearing up acne blemishes; prevents future acne attacks. The same cream that comes with the "MagicClear Acne System".
Net wt. 2 oz.
Item M101 Price $24.95
---

Foaming Mint Cleanser
A gentle cleansing solution that leaves your skin feeling clean and silky. This unique face wash contains all natural Tea Tree Oil, a natural antiseptic. Included also are extracts of Goldenseal, Hawaiian White Ginger (Awapuhi) and the essential oil of Swiss Chamomile (Matricaria). Mineral rich Bladderwrack, harvested from the sea, nourishes the skin to leave it looking vibrantly healthy.
Net wt. 8 fl.oz.
Item M102 Price $12.95
---
Almond Aloe Facial Moisturizer


Non-Oily, Non-Comedogenic, Unscented

Facial moisturizer with Beta-Liposomes™ are nature's "high-tech" skin softeners, soothers, and moisturizers. In addition, they dramatically increase absorption of other soothers and moisturizers into your skin. These Liposomes, combined with Beta-Carotene, herbal moisturizers and a Paba-free sunscreen, help protect skin from signs of premature aging.
Almond-Aloe also contains Alpha-Hydroxy Acids to inprove the skins texture. Non-irritating, non-oily, non-comedogenic formula, pH 5.0. Perfect for all types and sensitive skin.
Net wt. 4 fl. oz.
Item M106 Price $14.50
---
Vitamin-E Moisturizing Cream


Moisturizing cream with Vitamin E, Aloe Vera Gel and Comfrey. A skin protectant, non-comedogenic. It softens, moisturizes and hydrates sensitive skin. Promotes firm healthy tissue. Quick absorbing, long lasting formula that leaves the skin feeling soft and smooth. It protects your skin from dust, small particles and air pollutants. For all skin types (including sensitive skin).
Net wt. 2 oz.
Item M103 Price $9.95
---

Skin Lightener Cream
Skin Tone Balancer, Brightens Skin, Evens Out Skin Tone, Helps to lighten dark spots left over from acne. A Light, Non-oily Formula. Effective for lightening the appearance of all types of complexions. A natural alternative to the use of hydroquinone bleach creams.
Net wt. 2 oz.
Item M104 Price $25.95
---


Gentle Apricot Facial Scrub
A Moisturizer, Cleanser and Exfoliant
Soap free ! Gently exfoliates and removes dead skin cells. This stimulates the growth of new cells for a better complexion and leaves your skin fresh, moist and smooth.
Cleans without drying the skin. Safe and natural . A creamy base of many moisturizers which prevents dry skin. For all skin types.
Contains natural extracts, Vitamin E, Apricot and Almond Oils, and Soya Sterol to both protect your skin and restore its natural moisture. pH 5.0.
Net wt 2 oz
Item M105 Price $9.50
---
Mint Julep Masque
Developed by a dermatologist, and will help dry up acne pimples, rinse away blackheads, even helps shrink enlarged pores. Simply apply Mint Julep Masque to your face and neck. Within minutes it firms and hardens, as its suction draws out waste matter from the pores.
Leave on for approximately 15 minutes, leave on problem areas over night, rinse the masque away with warm water and a wash cloth. After the masque is removed your skin will feel clean...refreshed and smooth.
For the people who are fortunately free of skin problems, Mint Julep Masque is a refreshing facial treatment that relaxes tired muscles and eases tension lines on the face and neck.
Net wt. 4 oz
M108 Price $14.95
---
Please send your suggestions, comments, or reports of non-functional links, to the Webmaster
---
This page, and all contents, are
Copyright (C) 1998 All Rights Reserved
Jevelle International Ltd.
14123 Van Ness Avenue
Gardena, CA 90249
1-877-Jevelle
This site created by NRS Enterprises